A selective range of Roller Grill products invites you into your kitchen at home or in your outdoor kitchen on the terrace!
With a perpetual spirit of innovation and a high level of quality, Roller Grill manufactures the widest range of catering equipment and adopts the technologies used by the great Star Chefs to offer you a "Gourmet" line of high-level and powerful products.
---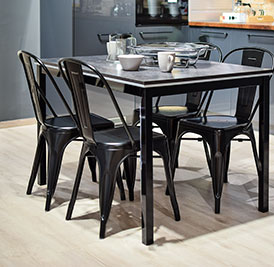 The range of cooking equipment for household use consists of 4 main products families:
Infrared convection and multifunction ovens
electric fryers with cold zone
a "Gourmet" line meant for "gastronomy lovers" and professional cooking enthusiasts with contact-grills, professional crepe and waffle makers and the snack oven
the plancha grills to adopt the "Planch'Attitude®" in your garden or in your summer kitchen.
---
Roller Grill products rhyme with pleasure and quality cooking!